The Dining Room, Stiftsgården. Photo: Jette C. Petersen
It is only possible to visit Stiftsgården by attending a tour. The tours are conducted in Norwegian and English. For tours in German or French, please send an e-mail to: omvisningsleder.stiftsgarden@nkim.museum.no (minimum 10 person in one group). 
The Royal Residence is closed for visitors. We will reopen the 1st of June 2020. 
Season: 1st of June until the 16th of August 2020. 
Monday-Saturday: guided tours on the hour every hour, 10 a.m., 11 a.m., 12 p.m., 1 p.m., 2 p.m., 3 p.m.
Sunday: guided tours on the hour every hour, 12 p.m., 1 p.m., 2 p.m., 3 p.m.
Entrance Fee
Adult: 110 NOK
Groups of 10 or more: 90 NOK
Concession: 90 NOK
Student: 60 NOK
Children 6+: 60 NOK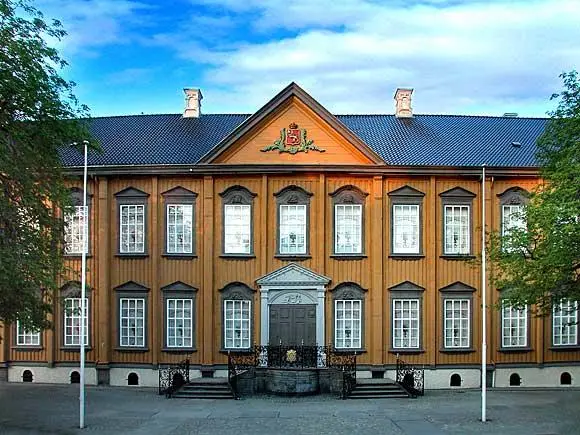 Stiftsgården
Munkegata 23 , 7013 Trondheim
The history of The Royal Residence
Stiftsgården was built between 1774 and 1778 for Lady Cecilie Christine Schøller (1720-1786), an ambitious widow of chamberlain Stie Tønsberg Schøller.  Lady Schøller was a representative of the cultural and commercial growth that Trondheim experienced in the late 18th century, and an example of the city's prominent and enlightened social elite. 
Unfortunately both the architect and the artists who made the interior decorations are unknown. The palace is built in Baroque classicistic style, but has elements of Rococo and Neo-classicism. It has over 100 rooms which constitutes 4000m² (43000 ft²) and is probably the largest wooden palace in Northern Europe.

Lady Schølleroften travelled abroad and never used the palace much herself. After she died in 1786 her family owned the palace until the year 1800, when they sold it to the state due to financial problems. It was then used by the County Governor of the region, and as a Royal residence when the Royal family visited Trondheim. Durring the 19th century the building also housed several other public institutions. From 1906 the palace became the official The Royal Residence in Trondheim, and has ever since been exclusively used by the Royal family. 
The palace has been the setting for the main festivities during the following coronations and benedictions:
King Carl 14th Johan (Bernadotte) 1818
King Carl 15th and Queen Louise 1860
King Oscar 2nd and Queen Sophie 1873
King Haakon 7th and Queen Maud 1906
King Olav 5th 1958 
King Harald 5th and Queen Sonja 1991
Stiftsgården has also been the setting for many other royal visits and events. In recent times King Harald 5th and Queen Sonja's 60th birthdays in 1997, Princess Märtha Louise's wedding in 2002, the state visit from the Emperor and Empress of Japan in 2006, the celebration of the 25th jubilee of King Harald 5th and queen Sonja in 2016, and the crownprince couple's official lunch for international scientists and scholars durring the Starmus festival in 2017.