The facade of Stiftsgårdens Photo: NKIM

Stiftsgården Park Photo: NKIM

The Dining Room Photo: Jette C. Petersen

The Throne Room Photo: Jette C. Petersen
Welcome to Stiftsgården next year!
June 1st - August 13th 2023 
Stiftsgården is open to visitors only during the summer season. To visit The Royal Residence and experience the majestic rooms, one must attend a guided tour. The entrance ticket includes a 45 minute tour. The tours are conducted in both Norwegian and English every hour from 10 a.m. to 3 p.m. (sundays 12 p.m. to 3 p.m.). Tickets can be purchased by the entrance at Stiftsgården or online.

For tours in German or French, please send an e-mail to: nkim.omvisningsleder@mist.no . 

GUIDED TOURS IN ENGLISH EVERY DAY
MONDAYS - SATURDAYS:

10 a.m., 11 a.m., 12 p.m., 1 p.m., 2 p.m., and 3 p.m.

SUNDAYS:

12 p.m., 1 p.m., 2 p.m. and 3 p.m.
TICKETS
You can only visit The Royal Residence by attending a guided tour during the summer season. The entrance ticket includes a 45 minute guided tour.
Entrance Fee:
Adult: 120 NOK
Senior: 100 NOK
Students and children 6-18 years: 70 NOK
Members of icom/icomos and children 0-5 years: 0 NOK
Invoicing of Guided Tours for Groups
Would you like to book a guided tour for a group and pay with an invoice? This is fine, but you must, in advance, make a written agreement with us about the time and number of persons in your group. Contact us at nkim.omvisningsleder@mist.no. To cancel or reduce the number of persons in your group, you must notify us in writing at least 48 hours before the booked time for the tour. Any such notification within less than 48 hours will result in you being invoiced for 100 per cent of the amount stated in the written agreement.
Max capasity for each group is 30 pax. Two groups are welcomed in every full hour during opening hours. If, upon arrival, your group is larger than what is specified in the written agreement, please be aware that some persons may be refused entrance due to the maximum capacity for guided tours. Any additional tickets must be paid in cash to the cashier.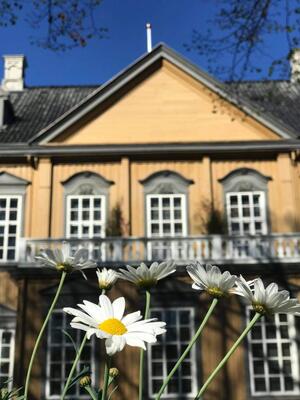 Stiftsgården
Munkegata 23, 7011 Trondheim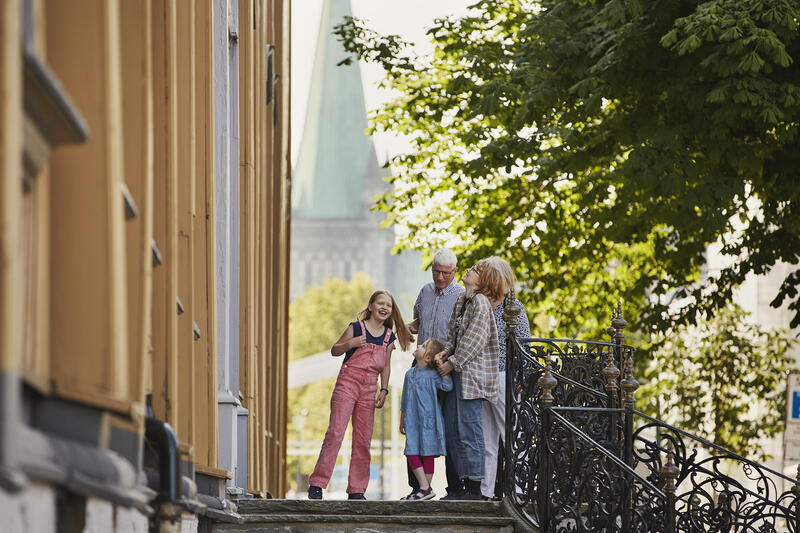 USEFUL INFORMATION WHEN VISITING STIFTSGÅRDEN
Stiftsgården is only open during summer season. You must attend a guided tour to see the interiors.
Tickets can be bought online or by the entrance. Please note: if you buy tickets online, please make sure you are on time! The doors will close and be locked when the guided tour starts.

Children under the age of 12 must be accompanied by an adult.
Photography or video recordings are not permitted inside The Royal Residence.

Mobile phones must be switched off or put on flight mode during the guided tour.

Large bags, backpacks, umbrellas, food and beverages must be left in lockers. These are free of charge.
Accessibility: the tour will be held on two floors. Wheelchairs and baby carriages can only be used on the ground floor. There is no elevator situated in the public area. Visitors can use folded chairs available on site.
Toilet facilities and lockers are situated in the cloakroom.
There is a small museum shop by the entrance where you can buy tickets, postcards, posters and books.
As Stiftsgården is a royal residence, opening hours may be subject to change at short notice.
The history of The Royal Residence
Stiftsgården is the official Royal Residence in Trondheim, where the Royal Family lives if they are visiting the city or the region of Trøndelag. The building is a magnificent example of 18th architecture. It was built between 1774 and 1778 for Lady Cecilie Christine Schøller (1720-1786), an ambitious widow of chamberlain Stie Tønsberg Schøller.  Lady Schøller was a representative of the cultural and commercial growth that Trondheim experienced in the late 18th century, and an example of the city's prominent and enlightened social elite. 
Unfortunately both the architect and the artists who made the interior decorations are unknown. The palace is built in Baroque classicistic style, but has elements of Rococo and Neo-classicism. It has over 100 rooms which constitutes 4000m² (43000 ft²) and is probably the largest wooden palace in Northern Europe.

Lady Schøller often travelled abroad and never used the palace much herself. After she died in 1786 her family owned the palace until the year 1800, when they sold it to the state due to financial problems. It was then used by the County Governor of the region, and as a Royal residence when the Royal family visited Trondheim. Durring the 19th century the building also housed several other public institutions. From 1906 the palace became the official The Royal Residence in Trondheim, and has ever since been exclusively used by the Royal family. 
The palace has been the setting for the main festivities during the following coronations and benedictions:
King Carl 14th Johan (Bernadotte) 1818
King Carl 15th and Queen Louise 1860
King Oscar 2nd and Queen Sophie 1873
King Haakon 7th and Queen Maud 1906
King Olav 5th 1958 
King Harald 5th and Queen Sonja 1991
Stiftsgården has also been the setting for many other royal visits and events. In recent times King Harald 5th and Queen Sonja's 60th birthdays in 1997, Princess Märtha Louise's wedding in 2002, the state visit from the Emperor and Empress of Japan in 2006, the celebration of the 25th jubilee of King Harald 5th and queen Sonja in 2016, and the crownprince couple's official lunch for international scientists and scholars durring the Starmus festival in 2017.